About Us
The Dynamic Duo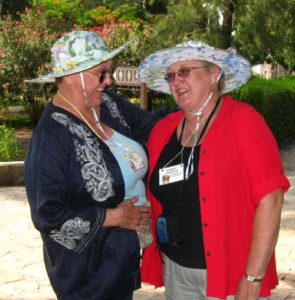 On Wings of Eagles Christian Tours co-founders, Phyllis and Harriet, are fun loving sisters. As life-long Christians, we have found a passion for sharing the history of Christianity and shwoing others where it began.
Not only have we done in-depth studies of the history and foundations of Christianity, we have taught numerous classes on all aspects of the Biblle. We have experienced and led tours to areas of biblical significance since 1992 and have gained a level of knowledge and expertise difficult to match among most other travel agents.
We have learned that trips customized to meet the needs of travelers are far more satisfying than the more generic trips being offered today.
Our love of travel has taken us around the world. But it is the numerous trips we have taken that we value the most, because they have influenced and enhanced our Christian faith. Our goal is to share these experiences with others so that, ultimately, they too, might discover a growth in faith and a love for the Bible that will last throughout their lives.
We do this because we are convinced that Jesus is truly the Bread of Life upon which we need to feed as long as we live. We pray that our trips are dedicated to the Glory of God.
Our trips are unique because we are committed to:
Broadening your knowledge and concept of scripture;
Renewing and expanding your faith;
Educating participants with pre-trip meetings and reading lists to reduce travel anxiety and enhance knowledge of the history and customs of the people and lands they will visit;
Accompanying each group that we send; and
Designing your trip to meet your specific goals and expectations.