Upcoming Trips
We've got three exciting trips coming up! Below are the ones we are currently accepting registrations for, but be sure to check back regularly. We are always in the process of planning for your future journey. Feel free to download the brochures using the links below for distribution among your faith group.
Don't see the trip your group is looking for? We can customize one for you, tailoring it to your exact needs. Contact us now to discuss how we can help enrich your group's faith with your dream Christian Tour.
---
Treasures of Israel and Petra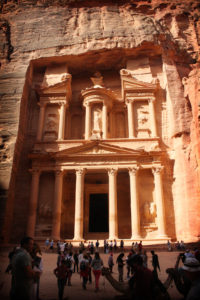 Sept 27 – Oct 11, 2022: Pastor Joe Meyer of Gloria Dei Lutheran Church worked with us to plan this trip to Israel and Petra. Join him to see iconic sites of the the Bible, like Jericho, the Dead Sea, the Mt. of Olives, Caesarea Philippi, the Teaching Steps, and even the Church of the Nativity, the birthplace of Christ. But we'll also take you to see other less historical sites, but they are no less enjoyable than the others, such as the Ancient Boat Museum, the Holocaust Museum, and a mosaic factory. This trip will renew your connection to your faith and show you the many wonders that both Israel and Petra have to offer.
Download the brochure.
Download the itinerary.
See videos with Pastor Joe talking about the trip.
Branson Christmas Tour
Nov 7-12, 2022: Join Pastor Dave and Beth Ahlman on a music-filled trip to Branson, MO where we'll see the Texas Tenors, Cassandre – the Voice of an Angel, and the Sight and Sound Theater. We'll also see the Seelye Mansion, the Route 66 Classic Car Museum, the Ralph Foster Museum and more.
June 19-30, 2023: Pastor Tim and Lisa Lindeman want you to come with them to tour the footsteps of Martin Luther in Germany! You'll have the chance to see many of the places that Luther himself walked, as well as tour the Gutenberg Press Museum, cruise on the Rhine, and pay your respects at Nazi and Soviet sights in Berlin.